How you use your 2021 Jeep Grand Cherokee on your travels through Ithaca, Binghamton, and Cortland, NY, may factor into which type of fuel economy works best for you.
Do you prefer a more powerful engine, an advanced towing prowess, or great gas mileage? Maguire Chrysler Dodge Jeep Ram FIAT (CDJRF) of Ithaca can help you find out which one meshes with your lifestyle. Read ahead to find out how each Jeep Grand Cherokee configuration determines the fuel economy and strength of your vehicle.
Jeep Grand Cherokee 3.6L Pentastar® V6 Engine
If you want the most gas-savvy engine for your Jeep Grand Cherokee, the 3.6L Pentastar® V6 engine amps up your ride with 295 horsepower and 260 lb-ft of torque. On its 4x2 drivetrain, you'll get an EPA-estimated 19 city/ 26 highway MPG. With the 4x4 drivetrain, however, you can achieve up to an EPA-estimated 18 city/ 25 highway MPG.
With this engine, you can tow up to 6,200 pounds when properly equipped, so you can always keep up with the pack. You also get better gas mileage, especially when making that weekend road trip to Lake George.
There are a few additional engineering features that help to improve the fuel efficiency of this engine:
Electronic Stop/Start Technology turns your engine off when you've stopped to help conserve fuel.
Eco mode slows down your idle speed in order to reduce the energy that is used.
An 8-speed automatic transmission increases the efficiency of the engine, thus reducing the amount of power (and fuel) it needs to operate at peak performance.
This engine comes standard in the Laredo E, the Limited, the Trailhawk, the Overland, and the Summit trims.
Jeep Grand Cherokee 5.7L V8 Engine
Have you fallen for the Limited, the Trailhawk, the Overland, or the Summit trim, but wishing that the towing capacity could be better? Why not opt for the larger, available 5.7L V8 engine with a 4x4 drivetrain?
It gives you a maximum towing capacity of 7,200 pounds when properly equipped and uses 360 horsepower paired with 390 lb-ft of torque to do so. With variable valve timing (VVT), you build up more gas efficiency as well. For this engine, you can expect an EPA-estimated 14 city/22 highway MPG.
Additionally, the 8-speed automatic transmission will ensure that you're using the ideal amount of gas without going overboard. This is paired with built-in fuel-saving technology that will shut off four of the eight cylinders when they're not in use.
Jeep Grand Cherokee 6.4L SRT® V8 Engine
Standard on the SRT trim with a 4x4 drivetrain, the 6.4L SRT® V8 engine uses Fuel Saver Technology to optimize gas efficiency. However, it still offers an outstanding output of 475 horsepower and 470 lb-ft of torque. With this level of power, you'll get a fuel efficiency of an EPA-estimated 13 city/19 highway MPG.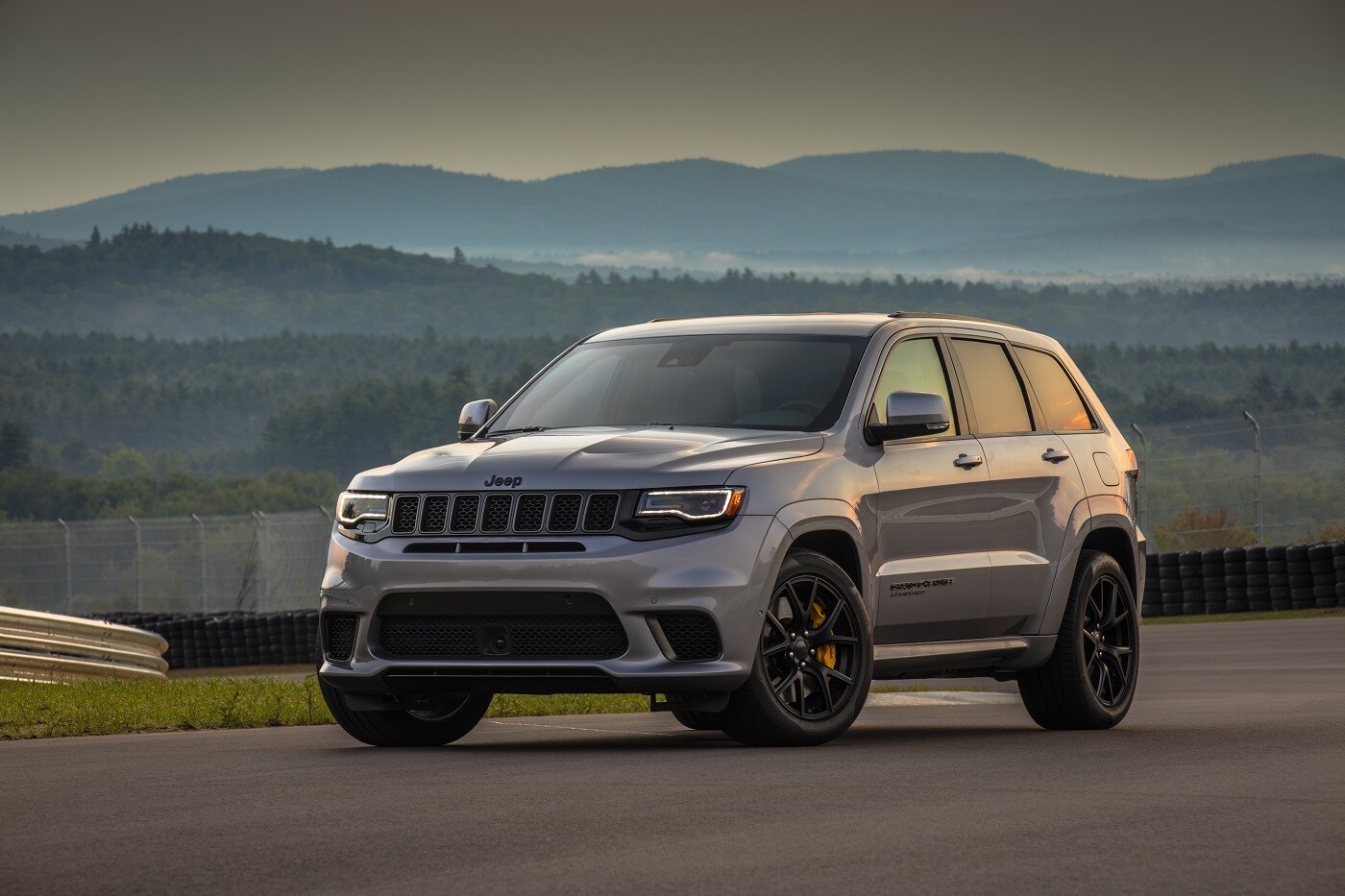 Like the other available engines, the 6.4L SRT® V8 engine also comes with an 8-speed automatic transmission that effortlessly switches gears to match the road conditions, making the engine more efficient. However, this one also comes with five drive modes, thanks to the standard Selec-Track® System:
Auto
Sport
Track
Snow
Tow
By switching to different drive modes, your Grand Cherokee will only use as much power as needed so that it can conserve fuel.
Jeep Grand Cherokee Supercharged 6.2L V8 Engine
When you choose the powerhouse Trackhawk trim, you're getting a beast of a vehicle that can tow up to 7,200 pounds when properly equipped.
With the stamina of 707 horsepower paired with 645 lb-ft of torque, the 6.2L V8 engine can go from 0 to 60 MPH in just 3.5 seconds. Your Jeep can even reach a top speed of 180 MPH!
Let's face it, when you choose an engine like this, you're not thinking about fuel economy anyway-you crave the immense active power that it generates. As such, you'll get an EPA-estimated 11 city/17 highway MPG when you have this monster equipped on your Grand Cherokee.
Grand Cherokee Limited Editions
You may be interested in a Grand Cherokee Limited Edition trim, like:
80th Anniversary
Laredo X
Limited X
High Altitude
Freedom
Every trim listed has the 3.6L engine as standard. The Limited X and the High Altitude trims also offer the 5.7L engine for enhanced power.
Plus, when equipped with a 4x4 drivetrain, you'll get the added benefit of the Selec-Terrain® Traction Management System. This allows you to easily choose from Sport, Snow, Sand/Mud, or Rock driving modes.
Jeep-Exclusive Performance Engineering
Now that you know about the heart of the Jeep and how its engines relate to fuel efficiency, it's time to dive deeper into the features that make the Jeep Grand Cherokee a master of the uncharted road.
The 4x4 capability of the Grand Cherokee is what allows this model to achieve such a high level of all-terrain performance. The following systems are available within the various trims and work in tandem with the powerful engines:
Quadra-Trac I® 4x4 System: The base 4x4 system of the Grand Cherokee detects changes on the road and adjusts torque and power automatically.
Quadra-Trac II® 4x4 System: An upgrade on the previous system, it comes with Selec-Terrain® Traction Management System and two-speed low transfer case that can correct tire slippage as soon as it is detected. Great for low-range environments, like dunes and muddy roads.
Quadra-Drive® II 4x4 System with Rear Electronic Limited-Slip Differential: This advanced system offers a range of versatile capabilities to go over any type of terrain that you wish to traverse. It also comes with the available Quadra-Lift® Air Suspension System, which raises your Jeep up to 10.8 inches to maneuver over large obstacles.
Quadra-Trac® SRT® 4x4 System: This is the ultimate 4x4 system on the Grand Cherokee. It can direct all of the power and torque of the engine to one wheel when needed for optimal traction and control.
Depending on your future adventure plans and the level of capability you need, there's a Jeep transfer case to suit you.
Find the 2021 Jeep Grand Cherokee MPG You Want
With a variety of fuel efficiencies and engine power, the 2021 Jeep Grand Cherokee can offer plenty of options to Ithaca, Binghamton, and Cortland, New York, drivers. When you've figured out which engine you prefer, schedule a test drive at Maguire CDJRF of Ithaca.